Regular price
$0.00
Sale price
$699.99
Unit price
per
Sale
Sold out
5 in stock
Shipping & Condition

Orders are typically prepared for shipment six days a week. Our goal is to ship orders the same day, if the order is placed before 1 PM CST on a weekday. Due to the value of many of our products, a Delivery Signature is typically required.

Most products on our website are new. We also occasionally sell demo or blemished products. These items will be labeled accordingly on our website. For definitions of the different products conditions please click here.

If this is a gift for someone special, please keep in mind that most items arrive in packaging that reveals what's inside.
The Yamaha P-125A digital piano delivers an authentic and realistic playing experience and is designed for both beginner and advanced pianists. The P125 Yamaha keyboard boasts a compact and stylish design that makes it ideal for use at home or on stage.
The P-125A features Yamaha's Pure CF sound engine, which reproduces the sound of the renowned Yamaha CFIIIS 9' concert grand piano. With an 88-key weighted keyboard, this Yamaha portable digital piano provides excellent touch and response, allowing you to play expressively and precisely.
According to Yamaha, the primary difference between the P125 and the P125a is that the P125a has no USB Audio.
The P125a piano comes with a variety of features that make it highly versatile, including 24 different voices, a dual mode for layering two voices, and a split mode that lets you divide the keyboard into two sections for playing different voices with each hand.
Additional features include a built-in metronome and an onboard recording function that allows you to capture your performances.
With its intuitive user interface and minimalist design, the Yamaha P-125A is easy to operate and highly portable. It's compatible with the Smart Pianist app, which allows you to control the instrument's functions using your smartphone or tablet.
The Yamaha P-125 digital piano has excellent sound quality, a realistic touch, and a range of features that make it ideal for both practice and performance. It's sure to give you a lifetime of playing enjoyment. Contact Andy's Music and order yours today.
 Yamaha P125 Digital Piano Features
GHS weighted action
Special matte black keytops absorb moisture and remain tactile after extended use without becoming slippery.
The Pure CF Sound Engine faithfully reproduces the tone of the Yamaha 9' CFIIIS concert grand piano
String Resonance recreates the sympathetic sounds of other strings resonating
Damper Resonance DSP recreates the sound of the inside of a grand piano when the dampers are off the strings.
Key-off samples deliver the delicate change in sound the instant the damper falls back to the string.
USB to HOST connectivity with MIDI output
Audio output via AUX output
Sound Boost adds some EQ and volume to help the instrument project and cut through the mix using its internal speakers, allowing you to be heard in small ensemble situations such as an acoustic jazz trio.
Stereophonic Optimizer adjusts the spatial distribution of sound in the listener's headphones, creating the sensation that sound is coming directly from the piano, rather than from the headphones.
Split mode lets you play a different Voice with each hand
Duo mode splits the keyboard into two halves, each with its own "middle C" for practicing with a partner
Dual Mode lets you combine two Voices together, like piano and strings, for an inspiring new playing experience.
Intelligent Acoustic Control (IAC) automatically adjusts the EQ of the built-in stereo speaker system to the player's setting, ensuring the richest tone at any volume level.
The 2-track song recorder allows players to practice one hand at a time, or record their next hit single!
Auto power off saves energy by shutting down after a period of inactivity
192-note polyphony allows you to play complex passages on your keyboard without any dropped notes.
P125 dimensions: W 52.1875 x D11.625 x H6.5625
View full details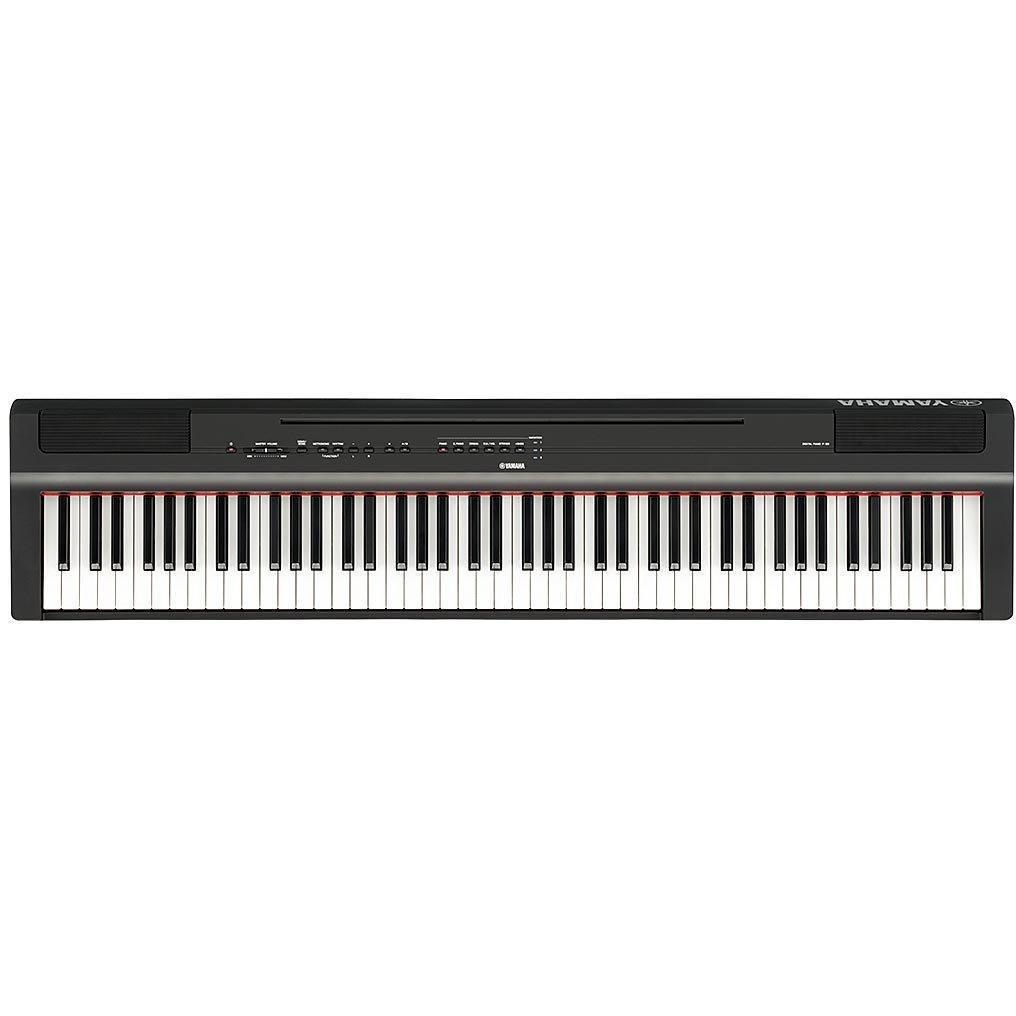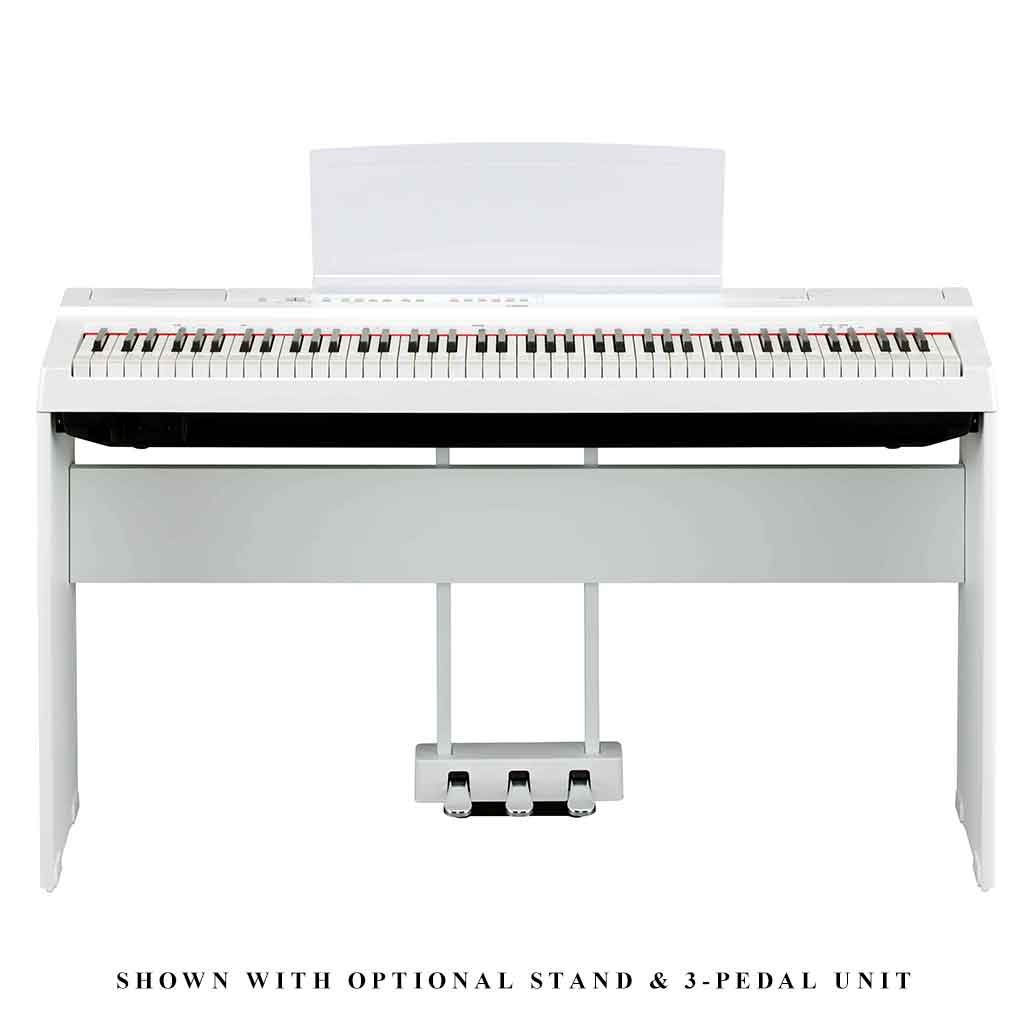 Great keyboard and sound with accessories
Yamaha keyboard
Perfect keyboard. Nicely weighted keys and a good sound for the speakers. Extremely hood hooked up to a nice amp or headphones.
Yamaha P125
So true to the sound and feel of an actual piano.
I am very pleased!